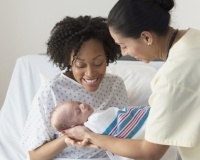 Virtual Learning Session 2 - Recap
The NAPPSS-IIN Collaborative was convened for Virtual Learning Session 2 on July 17th & 18th this month.
Cohort A Hospital Teams shared their storyboards and began to plan out PDSA cycles for Action Period 2. Here are the highlights that Hospital Teams were most proud of:
New York Presbyterian-Lawrence Hospital - New York: The New York team has a new video for all caregivers to view before discharge that provides education about safe sleep and shaken baby syndrome to build awareness, knowledge, and self-efficacy for parents and infant caregivers.
The Floating Hospital for Children at Tufts Medical Center - Massachusetts: The Massachusetts team is most proud about their Baby Café – a partnership with WIC to provide outpatient lactation support.
Choctaw Nation Health Center - Oklahoma: The Oklahoma team has worked to get all the OB and nursery staff to complete their safe sleep education. Also, they are continuing to form meaningful partnerships with other departments in our facility to promote safe sleep and breastfeeding.
Florida Hospital, Tampa - Florida: The team is proud to share out that they have interdisciplinary team support with 100% of staff members have been educated on Safe Sleep and the importance of breastfeeding to date.
CHRISTUS Southeast Texas - St. Elizabeth Hospital: The Texas team has worked hard to implement an in-hospital Halo Sleep Sack Program along with a Sleep Sack cart on NICU and Maternal Child units.
Upcoming: Action Period 2 Begins in August!
Cohort A Hospital teams will continue to test, implement and adapt their PDSA cycles in Action Period 2. This marks an exciting turn in the Breakthrough Series as we begin to move deeper into an all teach - all learn philosophy which allows the Cohort A teams to deep dive into continuous quality improvement and coach one another on their lessons learned.